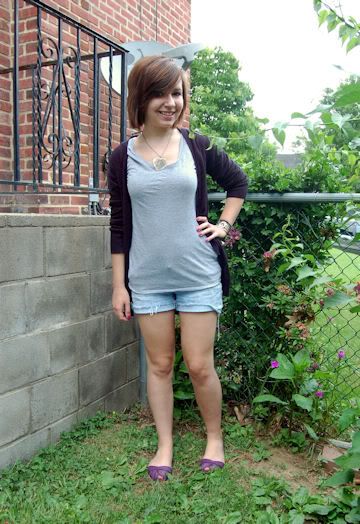 Cardigan - Forever 21, tshirt - H&M, shorts - American Eagle DIY, shoes - Blowfish from random online shoe store.
You know, my hair was perfect when I left my house this morning. Unfortunately it was ruined by the still-gloomy weather. Funnily enough, it's sunny now that I've come inside from taking pictures. I realized I've never worn these shoes on here... I received them as a gift last year and I've worn them enough for them to go from being painfully tight to very loose. Uncomfy for walking up and down steps, otherwise, very comfy!
On another note, school is almost out so I may consider something I've been half-considering as a joke for ages, but the idea is growing on me... going blonde? I've been told I could pull it off, but I've also been told it would look awful. Maybe if I feel like having fun with bleach and wrecking my hair I'll just go for it, cry when it turns out looking gross, then go back to some unnatural shade of brown.
I'm having a bit of a dilema. I went to a thrift store yesterday (not Goodwill or any major chain) and I bought three belts. One feels like it's basically plastic, but it satisfies my need for a brown belt. The other two are real leather. I don't know why I bought them, but I'm having such a fight about this in my head.
While I was browsing, another customer pointed this out to me and said it was from Kenya (she said she could tell because she's from there), which frankly, made it ten times more interesting than any article of clothing I've ever considered purchasing. I thought of about fifty ways I'd love to wear it... but it's undoubtedly real leather although there are no tags or labels.
This caught my eye. I mean, it's rather bright compared to what else was in the basket I was searching through. It has a label printed on and it says "genuine calfskin." Noooo. By any chance, is anyone interested in buying this? It seems to be in good condition (though the previous owner evidently tried to make an extra hole in the band...), the brand is Cipriani and it's a size large, and can fit from about 28" to 33". Any takers? Doubt it, but email me if you're interested! It'll be very cheap, no more than a couple of dollars (plus shipping, sorry!).