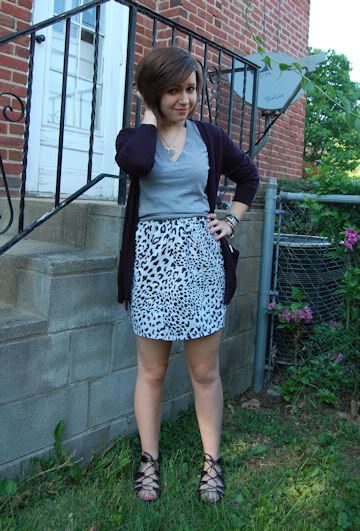 Cardigan - Forever 21, tshirt - Forever 21, skirt - Retrospect, shoes - Target, jewelry - mom/fleamarket.
Yeah, I've had this skirt for almost a year. It was kind of long at first and I wanted to make it into a tube dress, but the elastic was too tight and I didn't get any, so I ended up cutting/hemming it to produce this. I'm still not wearing much color, but look, prints!
Oh, and meet Sadie, my dog. Normally she runs around when she sees my camera, but I guess she felt alright with it today.
My day was pretty good. I got out early to do this study to taste stuff, and I'll be getting paid which means I'll probably blow it all once I get my check on either concert tickets and/or unnecessary clothing items. Expect a wishlist tomorrow or so. And I went out to eat with my mom, which I enjoyed because it's really difficult for me to find many restaurants that serve vegan food! Just one more day of school this week!
Have a great day, hope you're all doing well. xox Catherine