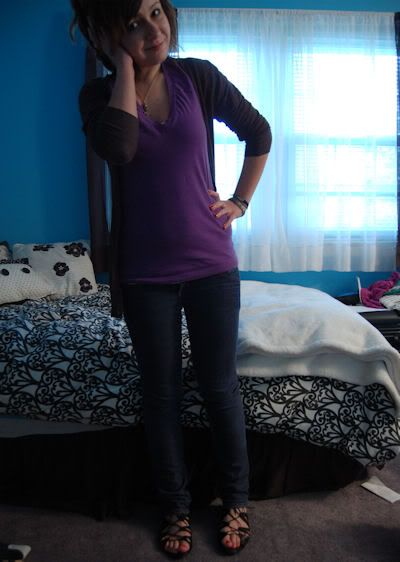 Cardigan - Forever 21, tshirt - American Apparel, jeans - Delia's, shoes - Target.
I really wasn't planning on posting anything today, but I guess I'm reverting back to my old go-to uniform... with the addition of my new shoes. Yeah, I bought them. No one else seems to love them as much as I do, but hey, they're my shoes, so what do I care?
And I feel like it may be my new camera (well, not so new anymore, especially considering I lost the lens cap which I told myself wouldn't happen until I've had it for a while), but I think I look much skinnier lately. Maybe I just haven't been eating as much. I have a serious food addiction though, so if it is real, I'm not expecting it to last.
And in other news, tonight is the big Met Costume Institute Gala for the opening night of the Model As A Muse exhibit... expect some light coverage tomorrow. As much as I hate how celebrities are put on such a high pedestal, I'm very excited to see what a few will be wearing, particularly Rachel Bilson. Speaking of her, she has a new column giving style tips in Instyle, and after hearing that I want to make a quick run to any nearby retailer.