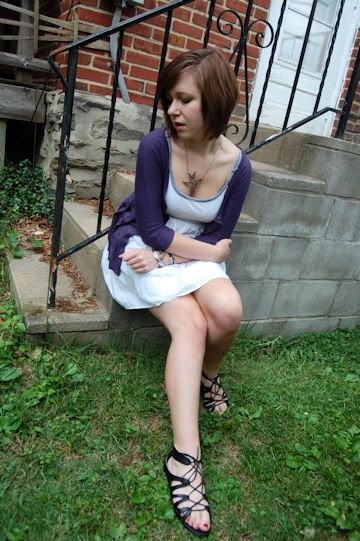 Cardigan - Lux via Plato's Closet, dress - Converse for Target, shoes - Target, necklace - random goth website, bracelets - flea market and mom (where else?).
I thought it was going to storm so I hurried while taking these, but it's getting sunny again. It probably will indeed rain sometime tonight though.
Probably not the best outfit to pose sitting down in, but whatever, I always wear shorts underneath dresses. So whenever I wear dresses, I'm pretty much sure to be comfy. I am seriously living in these shoes and I desperately want other pairs of sandals, a few wedges, etc... hopefully I'll get that job! I hate sounding so centered on money, but when I have about $5, it's more of an issue than I'd like it to be.
My toenail looks weird in the second picture, but it looks normal on my foot. Hmm. I guess I'm feeling a little critical today! Have I ever mentioned I consider myself really unphotogenic, but that I think I look pretty usually in person? ...Now I'm conceited. I'll stop with this.
Countdown: seven days?! (nine including weekends...)
Hope you're having a nice day! xox Catherine
PS Does anyone want to be added to my blog roll? Just leave me a comment saying you want to and I'll put your link up as soon as I can :)
PPS I got an interview for the job I mentioned! Ah, what shall I wear... I'm a little nervous now.