Finally received my check from doing some tasting session thing, and I decided to go to the mall and have a bit of fun since I'll be getting more money soon. Early celebration? Oh geeze...
I still consider the mall to be really uninspiring, but I'm pleased with my purchases:
Straw fedora, $9 from Heritage. I don't know how often I'll wear this, but bad hair days, the beach... could come in handy, right?
Fabric necklace, $5 from Urban. Can't say I own anything else like this! It'll add a little color to my outfits. Yay.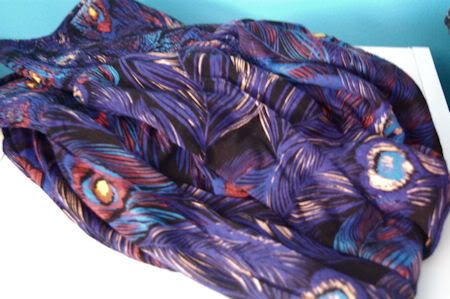 Printed dress, $20 from H&M. I guess this is more of a preview, but it's not something I would normally pick out. Nonetheless, I still love it and can't wait to try to wear it everyday during summer.
And last, but not least...
Strappy sandals, $60 from Urban. These are finally mine! I couldn't find them on the floor so I was mildly disappointed, but then I opened a door in the shoe section and saw the picture on the box and nearly jumped. But they were black... then I found them in gray, and not my size, but then I found them in gray, size 8. Perfect. I don't know if I've ever spent this much on any one item, but I know I will wear these as much as I possibly can so I think they will be well worth the $60.
So, Friday I came home around 6pm and seriously hopped right into bed and slept until 1am... stayed up until 4am (the most exciting thing I did was eat all of the raspberries, hahaha yummmm), then surprisingly went back to sleep. Is it bad that the most I slept in the week was a seven hour nap? Yes.
I suppose I'm enjoying what could very well be the last weekend before it's summer. And the weather's finally nice again. Woooh. Hope you're all enjoying yourselves, xox Catherine.