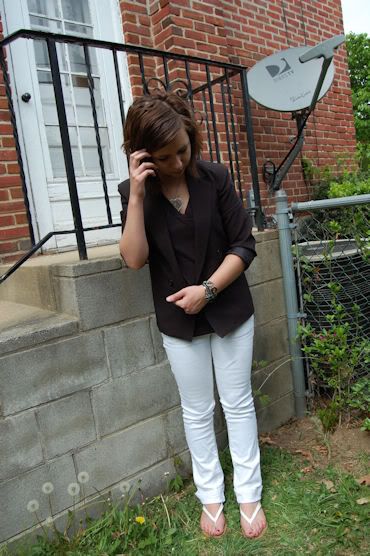 Blazer - my brother's, tshirt - Pacsun, jeans - Delia's, sandals (sigh) - Kohl's.
A little explanation on what I'm wearing for once! I remembered my brother had a blazer that probably wouldn't fit him anymore, so I checked it out. I thought it was navy, but turns out it's black. Oh well, still, a free blazer! Pacsun makes cheap basics, I've worn these jeans less than five times and I really want to get more use out of them, and I'm so scared the sandals I want from Target are going to sell out before I can go. I need new sandals. Not only do I wear these nearly everyday, but they're kind of breaking.
A ton of people asked if I was presenting today, but I went Tuesday. It's so nice being done... So, I guess I dressed up just for the hell of it. Always cool.
Today's kind of awful. School wasn't that bad, but I had a doctor's appointment after school (I got five shots, good thing I can handle them!) and now I have driver's ed. Which makes me want to... well, let's just say no thoughts about driver's ed are the least bit positive.
Hope your day is going well! xox, Catherine.