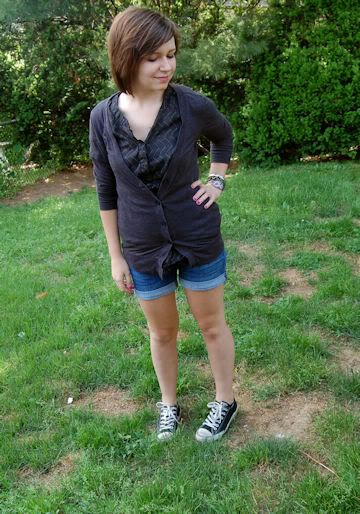 Cardigan - Forever 21, top - FCUK, shorts - Pacsun, sneakers - Converse.
I'm sorry for abandoning you over the weekend... but through moping around at home and going on yet another "adventure" (it was legal this time - though I'm not sure standing directly over a highway on top of some structure is). Sometimes I absolutely love life and being sixteen. I think I'll be getting my permit sometime soon because I've been too lazy to get it, and I just handed in an application today. To a toy store. What am I getting myself into?
I would say I've been busy with finals and what not, but we haven't even started to prepare yet. Good news, though: I have no more than ten days to wake up, possibly even nine depending on how that one last teacher does exemptions for finals. However, I have a ton of projects to do this week. Yeah, it rules.
I've basically given up in terms of everything school related... I even minimized my make up routine. And it actually made me question why on earth I'd wear foundation/powder if I don't need to. So I won't.
Long post, but I promise this is it! ...I got tickets to see Blink-182 in August. I am a happy, happy girl.
Oh, I lied: happy June!