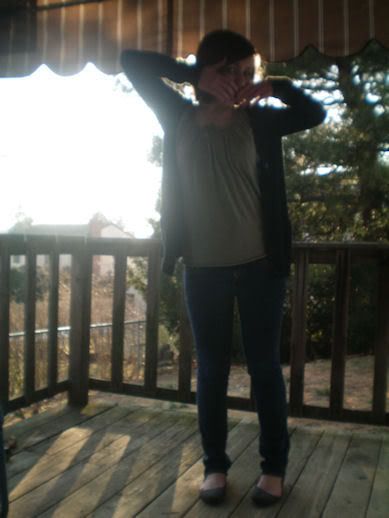 Cardigan - Forever 21, top - Urban, jeans - Delia's, flats - Charlotte Russe.
Hello! I guess I decided like showing off my skeleton fingers... ha. Well I suppose I'll elaborate on my outfit a little bit. This is probably one of the three things I own from Urban, I bought it with a gift card after a long debate (a few months). Their stuff is too expensive for me, I wish it wasn't because some of the clothes there are so lovely. But I'd rather not dress head to toe in it. And these flats were $10 from that trendy mall store. I couldn't help myself. They're finally broken in! The first time I wore them I ended up with horrible blisters, ow.
Just some life stuff: I wish that colleges in places with cold weather or with generally conservative people wouldn't contact me via email or mail. Is it weird that I may base my decision on weather? In my opinion, absolutely not! But other people may find it strange. My day wasn't all that bad. I can't complain, and it's Friday so I'm freee until Monday. Disabling my alarm on Friday mornings is such an amazing thing.
Oh, and I've been listening to Date Rape by Sublime on repeat for the past fifteen minutes. Their songs are so addicting!
I may post again later, but I may paint instead. Hmmm.