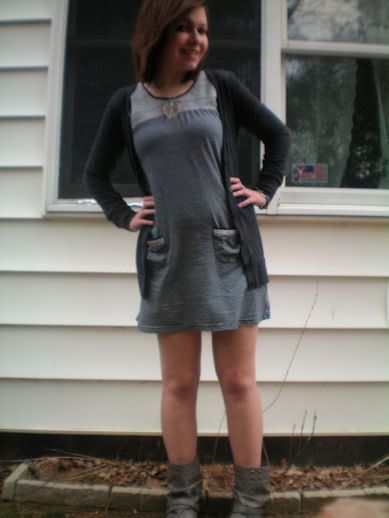 Cardigan - Forever 21, dress - Pacsun, boots - Modcloth
I bought this dress last winter for $6. I've only worn it three or so times, but I fixed the sleeves so they won't get on my nerves and hopefully I'll wear it more once the weather is like this (and nicer) all the time. I love days like these.
And I find it funny that anyone makes any size of a deal out of Valentine's Day. People are all fretting that they won't have a date, but I just think it's a bit ridiculous... Well, I have to admit, getting my matchmaker thing back at school made me laugh so hard. I'm not exactly fond of many people in my school.
Oh, and I've been watching this video over and over again yesterday and today. Not only do I love this band and song, but the blazer that the girl in it is wearing is quite awesome as well. It's called Wine Stained Lips and it's by Catch 22, by the way.